About Dashboard:
This dashboard shows employees performance, bonus, salary per department. The slicer technique is used to show interactivity, the viewer can select any or multiple departments at one time & all the related report gets updated automatically.
There are two pivot tables used & one slicer, which is linked with both the pivots to provide interactivity in the report.
It allows HR managers and senior management a quick view at employee statistics,from different perspectives.
HR Dashboard can be designed in different ways and used for different things, but it's mainly developed & designed keeping in view the important metrics.
There are several ways in which you can visualize HR data to understand the objectives. In October, Excel Forum team launched a dashboard, competing in which you are asked to visualize data using sample data. The challenge has generated a huge thrill around the community and fetched 118 incredible entries.
Thanks everyone for participating and making this a huge learning experience for everyone. Excel Forum team has learned several useful dashboard and charting tricks.
In this article, we will show you the steps on how to create this dashboard.
Let us see how the Dashboard made by One star looks:

We have divided this dashboard into 3 sections of information. Let us take a look at each one separately.
Section1:
The following is a picture of slicer, which is used to control the view of employees' information, updated as per the selection of the department.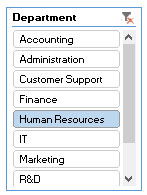 As we select any department, say IT, then all the related information will be updated dynamically.
Section2:
In this section, Bonus & Salary information gets updated using line chart. This chart is controlled by the slicer, with the selection of a department, say HR,and then all the related information gets updated dynamically.Refer below chart:
Section3:
The following picture covers staff performance score for the selected HR department using the column chart.
Using this dashboard we can get a clear view of the Human Resource;and thus we can get the information from various points of view.