Moving Average is an analytical tool in Microsoft Excel which is used to recognize the ongoing trend in the data and it helps in forecasting.
This tool is commonly used in several business to move an average of 3 months sales and present the report in excel chart
The Moving Average function is part of Add INS in Microsoft Excel 2010 and 2013.
To access this tool click on Data Tab, click on Data Analysis in the Analysis group. If the Data Analysis command is not available then you need to load the Analysis Toolpak.
To load and activate the Analysis Toolpak follow below mentioned steps:-
Click the File Tab, Click options and click on Add INS Category.
In the Manage box, select the Analysis Toolpak and then click on Go button.
In the Add Ins dialog box select the Analysis Toolpak check box and then click Ok.
If Analysis Toolpak is not listed in the Add Ins available box click browse to locate it.


Let's come back on the topic, to generate the moving average report take an example. We have sales data month wise in the range A1:B13. In which column A contains Month name and column B sales.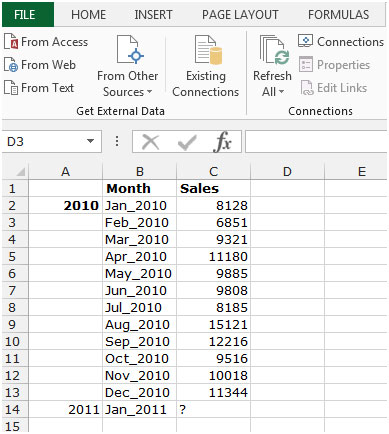 To use theMoving Average tool, follow below mentioned steps:-
Go to Data Tab.
Click on Data Analysis in the Analyses group.
Data Analysis dialog box will appear.
From the Analysis tool drop down menu select Moving Average and click on ok.
You will get another Moving Averagedialog box will appear.
Click on Input range. Select the range C2:C13.
Tick on Output Range and select the cell where you want to show the summary.
Tick on the chart output in the box.
Click on ok.


We can see the sales performance trend in above snapshot in just one click by using the Moving Average tool in Microsoft Excel.