In this topic we will learn about how wecan hide toolbars in Excel 2010.
You can Hide Ribbon, Show Tabs and Show tabs with Commands from the bottom top icon of the spreadsheet through the Ribbon Display Option. In Excel this option is available in the top right corner.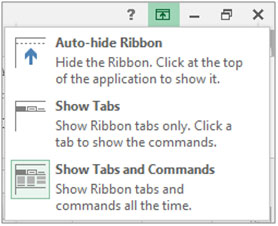 When youclick on Auto-hide Ribbon, then tabs and commands will disappear from the spreadsheet. When you are working on the sheet, the ribbon will be hidden.
To display the hidden ribbon click on the Ribbon Display Options button again and select Show tabs. This will display only the main tabs. If you want the commands in the tab to be visible, you need to click on the specific tab.

To display all the tabs and its commands click on the Ribbon Display Options button and then
select Show tabs and Commands.
There is another way to show and hide the commands, just double click on the main tab from the ribbon.
The above is the menu which appears when you open the excel file.
So now double click on the "Home" tab as an example and you will that the commands in each tab will disappear.
Now if you double click on the "Home" tab again, you will be able to see the menu commands.