In this article we will learn how to add cells from different sheets in Microsoft Excel.
Consider a scenario while working on the reports you want a formula that will give you the total from the same cell address in different sheets.
We will use SUM function to retrieve the output.
Sum: Adds all the numbers in a range of cells.
Syntax: =SUM(number1,number2,…)
There can be maximum 255 arguments. Refer below shown screenshot: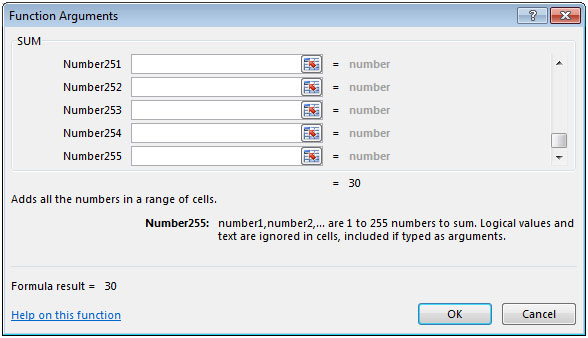 Let us take an example to add totals from different sheets:
We have three sheets named as Jan, Feb & Mar.
In cell A1, a number is stored in all the sheets & we want to take a sum.
Let us enter number 10 in cell A1 in all the sheets to get the output as 30.
We can put the formula in any cell in any sheet.
Type =SUM in any cell in any of the sheet in the workbook.
Select the tab for the first sheet like Jan.
Hold the shift key and then select the tab for the last sheet, Mar.
Click on the specific cell i.e. cell A1 for which you want to take a sum.
The formula would be =SUM(Jan:Mar!A1)
Then press Enter. We will get the total from cells in different sheets.
If you liked our blogs, share it with your friends on Facebook. And also you can follow us on Twitter and Facebook.
We would love to hear from you, do let us know how we can improve, complement or innovate our work and make it better for you. Write us at info@exceltip.com