To create a pivot table report – grouping the date field by days, months, quarters and years, let us first create a pivot table report.
Let us take an example:
We have dates in column A from 1-Jan-2012 to 31-Mar-2013
Click on Insert Ribbon to create a pivot table report
In Tables group, click on Pivot Table.
The following dialog box will appear
Select existing worksheet option if you want to create the report in existing worksheet, otherwise click on OK to create in new worksheet.
Drag Date to Rows field & Sales to Values field.
Now you need to click on any cell in column A (Date column) & right click and select Group option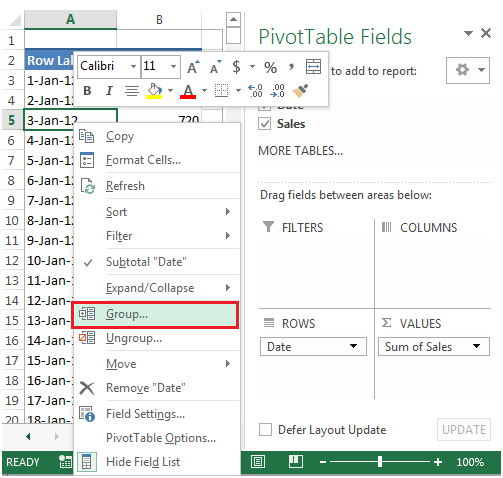 Select Days, Months,

Quarters & Years as show below in snapshot
Click on OK, and you will see the Sales will segregated per date wise.
Grouping the dates will allow you to quickly find the sales in a particular period.