Pivot tables is the most powerful feature in excel. It hardly takes much time in organizing the fields correctly in order to make meaning result out of the data.
There are many people who think that pivot table is complicated & time taking process but in my advice it is the best tool in excel that allows you to do analysis from various point of view.
Pivot tables allow various built in features like formatting a value. You can format a value of your choice in pivot tables.
Whenever you add numbers to pivot table, you want to format them.
Pivot table uses general formatting by default. Select cells directly in the pivot table and apply a format manually.

Let us format the below pivot table to number of counts
We have a sales report for five products.




Pivot table report has been generated using sales data.


To format a value field, click on Sum of Sales in Values section & select Value field settings.
The following value field dialog box will appear.
For numeric values, default option will be selected as sum.
Select various options like Count, Average, Max, Min, Product, etc. depending on the requirement & result will be updating accordingly.


How to format numbers to currency
We have pivot table in general format, we can select the sales values in this pivot table and apply a currency format with no decimal places.




To change the format to currency we have to follow the below steps:
Click on Value Field Settings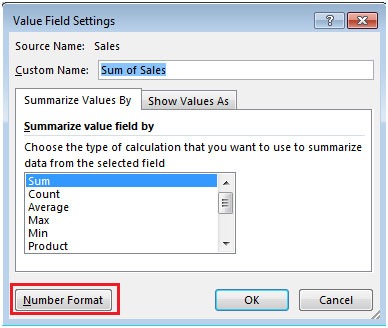 The Format Cells window will open
Select Currency from Category& enter 0 in Decimal places
Click on ok twice


The format of values field in pivot table is changed to currency format.