About Dashboard:
This dashboard showsShift Handover Report of a company. With this dashboard we can quickly analyze the performance of all the associated lines.
There is performance shown on various scales for 4 days at one point of time. Using this dashboard we can easily compare the performance with various parameters like plan, cost, efficiency, etc.
There are several ways in which you can visualize data to understand the company's goal. In October month, Excel forum team has launched a dashboard competing in which you are asked to visualize data using sample data. The challenge has generated a huge thrill around the community and fetched 118 incredible entries.
In this article, we will show you the steps on how to create this dashboard.
Let us see the how Dashboard made by Johnny247 looks:


We have divided this dashboard into 6 sections of information. Let us take a look at each one separately.
Section1:
In this section,performance from day 1 to 4 are shown on following parameters:
Plan, Cost, Efficiency, Predicted Zone Recovery, Predicted Zone cost, Actual Tonnage, Planned Tonnage, Zone Headcount.


Section2:
This section covers information on Attendance.


Section3:
This section shows Head count used in this shift. The graph is shown using pie chart for all the lines.


Section 4:
This section zone accident per incidents this shift.


Section 5:
The following is a quality shift summary chart shows different parameters like paperwork, non coms, food safety.


In the above picture, paperwork & food safety are in green color while non coms is in red color.
Section 6:
This section shows blue zone accident free days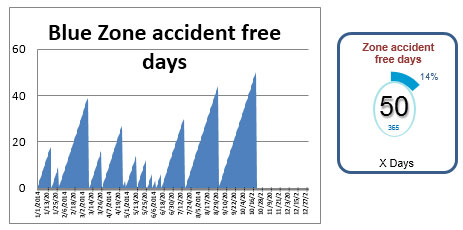 There are only 50 days in which there is no accident occurs, the same information is shown in above chart in percentage.
Using this dashboard you can get a clear view of the industry and we can get the information from various point of view.
If you liked our blogs, share it with your friends on Facebook. And also you can follow us on Twitter and Facebook.
We would love to hear from you, do let us know how we can improve, complement or innovate our work and make it better for you. Write us at info@exceltip.com