Lookup Function to Get Last Matching Value in Microsoft Excel
If you are wondering what formula should be used in order to get the last matching value in Excel to return the corresponding cell value, then this article is for you.
In this article, we will learn to use lookup function to get last matching value out of multiple values.
Question): I need a formula to look up the conditional value in a specific column & find the last occurred item & then return the corresponding value.
The data we will consider in this example has some names in column A, couple of them are repeated to have better understanding of this example; the second column has sale quantity.
Following is the snapshot of the sample data:
The formula should first of all check should check the number of times the criteria text found & then provide the adjacent value.
In cell E2, the formula is
=LOOKUP(2,1/($A$2:$A$8=D2),$B$2:$B$8)
Code Explanation:
This part ($A$2:$A$8=D2) evaluates to an array of TRUEs/FALSEs.
1 should be divided each of these evaluates to an array of 1′s and #DIV/0! error (because 1/True is like 1/1, which equals 1 and 1/False is like 1/0 which results in an error.
The Lookup() function looks for the last entry that is less than or equal to the Lookup value… so looking for a 2 in an array of 1′s and #DIV/0!'s will result in returning the last 1 in the array
This is then matched to the Result Vector; B2:B8 to pull the coinciding value.
To test the above formula, we can either change the conditional text or change in source data.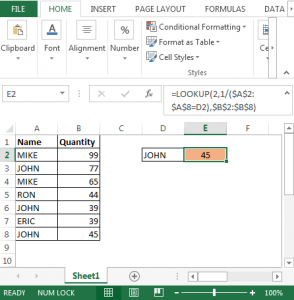 In this way, find the quantity sale by last occurrence of the searched name.
Download – Lookup function to get last matching value – xlsx